About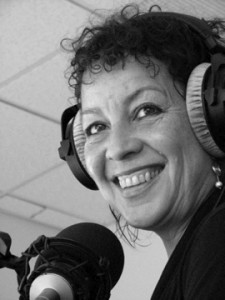 Beat Latino celebrates in every hour a different facet of the extraordinary diversity of the Latin & Latino musical universe – from traditional, roots music to the most cutting-edge avant garde, Beat Latino shares the best of our music with you!
Presented in Spanish and English so that those who enjoy the music will also enjoy the information, Beat Latino airs Fridays at 1PM and Sundays at 11am on Vocalo, a Chicago Public Media initiative, as well as Saturdays in Berlin and is archived on this website weekly. Beat Latino specials are also licensed all over the United States  through the Public Radio Exchange.
Catalina Maria Johnson, the host and producer of Beat Latino has a weekly music column published in HOY (Tribune Media), writes a monthly column on music for  Revista Contratiempo, and contributes regularly to Gozamos, Chicagomusic.org, 848 and Global Notes on WBEZ (Chicago Public Radio).
Follow Catalina on twitter, too!
Many thanks to Beat Latino's collaborators, whose assistance makes the show possible.
Roberto García edits the shows.
Adam Akbani, Camille Bacon, Joshua Nagel,  Darius Patrick, Benjamin Rodriguez-Johnson and Teresa Rodriguez-Johnson assist with website research and production.